For more details:
Call  07976 219 474
Or
Email  office@amplifiedsound.co.uk
…..
Glensound Electronics GS-GC5/G ISDN Outside Broadcast Mixer Workstation
£800
Ex BBC unit in "as new" condition complete with its flight box, instructions, an ISDN extension lead and a headset.
New from Glensound, these are now over £3,000. This one is on offer at only £800 including delivery to main land Britain.
Amplified Sound are selling on behalf of an ex BBC Presenter now retired.
GSGC5 Features:
Connects directly to ISDN S Bus
Uses G722 CODEC 
4 input mixer: 3 Mics and 1 Tape
Feeds for 2 Headphones
Very Portable Self Contained Unit
Specifications:
Dimensions:  235 x 227 x 90mm
Weight:  2700grams
Power:  3x Alkaline D Cells or External DC
DC Power Supply:  9 volts, 1.5 amps
Fully self contained, the GSGC5 is compact, flexible and easy to operate. Just plug into an ISDN2 S bus, dial the studio and be ready to broadcast. Facilities are provided for two commentators, an effects mic and a tape machine. An internal DTMF generator is used to generate ringing, dialling, engaged and other tones. This generator can also be used, after a call has been established, to signal the studio. A DTMF detector and sounder are also fitted so that the studio can signal the commentator.
Mic inputs, mixer and cue outputs are transformer coupled and provided on XLRs. The mixer output is even line drive capable and in the absence of an ISDN line the cue output automatically becomes a cue input, so the equipment can be used on analogue lines. Comprehensive software enables customers to configure the unit to suit their exact needs and up to 12 telephone numbers can be stored in non volatile RAM. Although normally battery operated a connector is fitted for an external DC supply.
…..
Monacor International PA-812DMP Mono Class D PA Mixing Amplifier
SOLD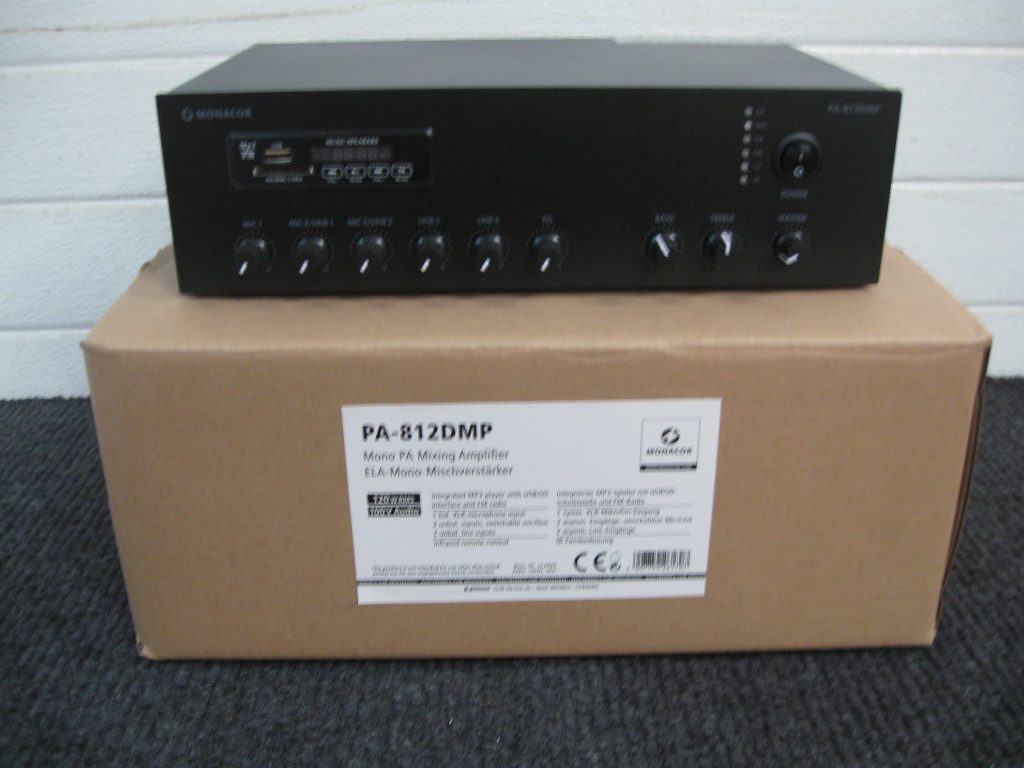 With integrated MP3 player, FM tuner and Bluetooth.
…..
Eagle PA4120E PA4000 Series Public Address Amplifier
£60 including delivery to UK only.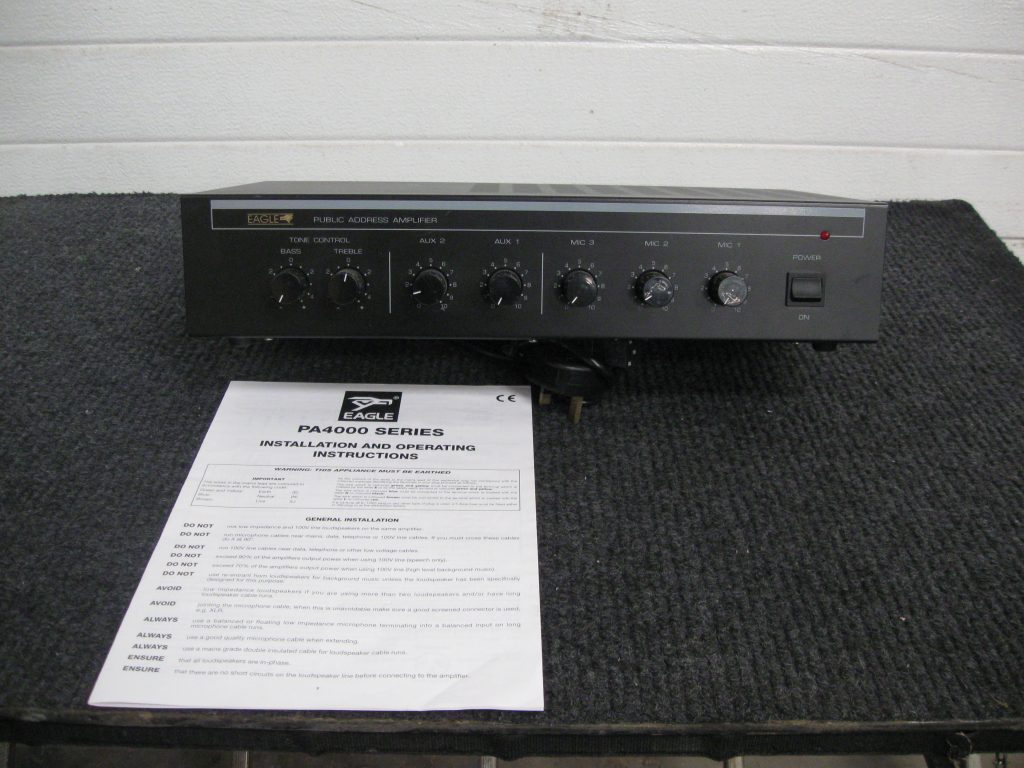 With installation and operating instructions.
Used but in great condition.
…..
Audio Technica ATW-R200 200 Series 173.8MHz Microphone Receiver Only
£15 including postage to UK only.

…..
IMG Stage Line TXS-110 Set/ UK 175.00MHz Wireless Receiver Only
£15 including postage to UK only.

…..
Maxon Europe HS650-01 Earbud Accessories for SL650 Hand Held Radio
£15 including postage to UK only.
5 x New and 3 x Used.
Earhanger / Mic with PTT.
…..
Monacor International JTS CS-50 Conference System
£25 Used.
JTS CS-50CU Control Unit with 2 x CS-50DU Microphone Stations and CS-1 Instruction Manual.
…..
Monacor International JTS CS-50CU Control Unit for JTS CS-50 Conference System
£45 Control unit is new and unused but box very shop soiled as seen.